Right from the Start Pediatrics welcomes new patients. Choosing the right pediatrician for your child is one of the most important decisions you will make. By selecting Right from the Start Pediatrics, you can feel confident and comfortable that you have made the right decision.
To understand what to expect for your child's first visit to our practice, please read through this page.
Dr. Morra's Philosophy
My patient care philosophy is straightforward. I am a pediatrician. I love children, and my goal is to care for them as well as I possibly can, helping the well children to stay well and the sick children to be well again.

Children and adolescents need to see me regularly, to make sure that they are growing well, reaching developmental milestones, and receiving necessary immunizations to prevent terrible illnesses. I delight in seeing well children - watching them grow and helping their parents understand the different stages of child development. Routine physical exams are important, so that I know, and the patient knows, how their normal body looks and acts.

I also need to see children when they are not well (that is, when things are "not normal"). My job sometimes involves prescribing medicine to help the children get better, but education is equally, if not more, important. If children and their parents become educated about their illness, they can often get better without my help. If a child or her parent remembers what I taught or advised about a particular illness, and can use that advice the next time that illness comes, that is just as rewarding to me. In such cases, I didn't even write a prescription, but I can (and did!) still help the patient.

For all the hard work I know it takes to raise a child (see my sons, Jack, DOB 5/6/02, Nicholas, DOB 5/13/04, and Luke, DOB 2/13/07), I also know that children are all about fun, laughter, and smiles. There's nothing better than seeing a smiling, laughing child. And even though I'm a pediatrician and kids are usually scared of me, I try to keep their experience in my office fun. I try to get them to laugh at least once when they come to see me.

If I had to come up with a motto, it would have to be, "Keep the well kids laughing, and get the sick ones laughing again." And if I can laugh with them, then so be it.

I hope to see you soon.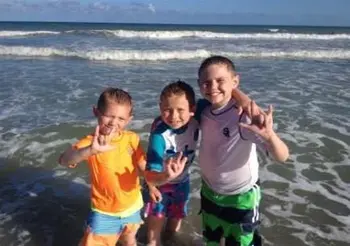 What to bring to your first visit?
We work hard to ensure that your child receives prompt medical care in a comfortable, child-friendly office setting. To help expedite the first appointment, we ask that you please bring your child's immunization records and be prepared to complete paperwork regarding your family medical history, your child's medical history, and insurance information.
What to Expect
On the day of your child's first visit to our office, we recommend arriving a few minutes early. This allows extra time for finishing up any registration forms and ensures you have plenty of time to get acquainted with our staff and office. You can find the necessary forms at the appropriate tab at the top of the screen.
We look forward to meeting you and joining with you to help your child maintain optimal health.
Driving Directions
9423 Holy Cross Ln, St. Joseph's Hospital, Medical Arts Bldg One, Suite 111, Breese, IL 62230
1941 Frank Scott Parkway E, Suite A, Shiloh, IL 62269